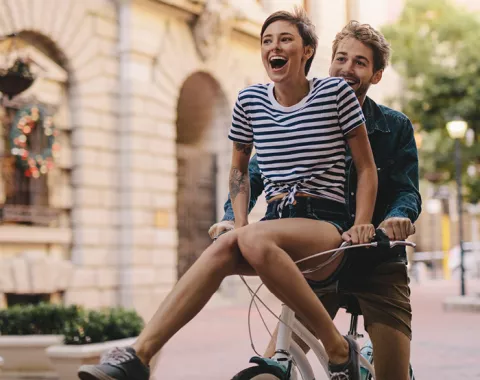 COPD
The Great Expectations® for COPD program is our educational program for members with chronic obstructive pulmonary disease (COPD). COPD is a chronic disease of the lungs. It really consists of two diseases — chronic bronchitis and emphysema. Cigarette smoking is the number one cause of COPD, although you can also get it from other environmental factors.
Ready to get started? Review the COPD guide to learn about tips to help you better manage your COPD and improve your quality of life. We enroll all members with COPD at no charge. 
Members also receive:
Educational materials about COPD, breathing retraining, medications, diet, exercise and lifestyle changes.
Information about BlueChoice HealthPlan's coverage of COPD medications and supplies.
For our higher risk members, respiratory therapists provide telephone counseling. All members are welcome to call us with their questions about COPD or their coverage for COPD services, medications or supplies.
COPD can be a serious illness. Fortunately, you can help to manage it with the proper medications and some simple lifestyle changes. If you have COPD, learn how to take action to breathe better now.
An important part of COPD management is having a COPD Action Plan that your doctor has filled out for you. If you don't have one already, you can print a blank one and take it with you to your next visit. Boehringer Ingelheim maintains the COPD Action Plan. Boehringer Ingelheim is an independent pharmaceutical company that provides health-related information on behalf of BlueChoice HealthPlan.
We strongly encourage members enrolled in the program to quit smoking. Although quitting smoking will not reverse lung damage, it will slow the progression of COPD. If you smoke and would like help quitting, there are many resources you can access through the Great Expectations® for Tobacco Cessation program.
To enroll in a Great Expectations® program or for more information about care management and access to helpful resources, log in to My Health Toolkit® and select Health and Wellness then Health Coaching. You can also call us at 855-838-5897.
Other Helpful Links
American Lung Association
American Sleep Apnea Association
National Heart, Lung and Blood Institute
 These are independent organizations that provide health information on behalf of BlueChoice HealthPlan.
---
Some links on this page lead to third party websites. Those parties are solely responsible for the contents and privacy policies on their sites.