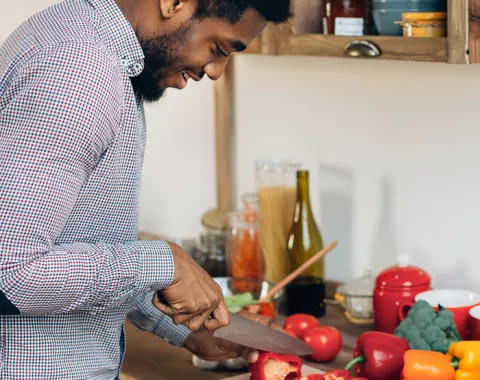 Great Expectations®for High Blood Pressure is an educational program for members who want to learn more about managing high blood pressure and making lifestyle changes to manage important cardiovascular risk factors. Ready to get started? Start by reviewing the high blood pressure guide. This guide can help you learn to take charge of your blood pressure and live a healthier life. 
Benefits of Participating
You'll receive access to online education and reminders for needed care.
Our staff of experienced care managers — including cardiac nurses and health educators — is available to answer your questions and offer support.
Depending upon your condition, you may receive phone calls from a care manager to help you set personal health goals to manage your high blood pressure.
Online Educational Resources
Important Steps You Can Take to Manage High Blood Pressure
Control your blood pressure. High blood pressure, or hypertension, is a major risk factor for heart disease, stroke and heart attack. So it's very important to keep it under control. Research has shown healthy lifestyle choices, along with medication, can lower blood pressure and may reduce the chance of stroke by 35–40 percent, heart attacks by 20–25 percent and heart failure by more than 50 percent. 
Blood Pressure Goals
Under 120/80 – healthy blood pressure
Between 120/80 and 139/89 – prehypertension
140/90 or above – high blood pressure (hypertension)
Check out these additional recommendations.
Manage other health conditions and diseases, like high cholesterol, heart disease, diabetes and pre-diabetes. Work with your primary care doctor on the best plan of care for you and take medications as prescribed. Ask your doctor if taking an aspirin (or baby aspirin) daily is right for you.
Know your body mass index (BMI). BMI takes into account your height and weight and is a good indicator of whether your weight is in a healthy range or if you may be overweight or obese.
Lose excess weight if you are overweight. Being overweight or obese can increase your risk for heart disease. If you need help with losing weight, check out the resources available through Great Expectations®for Weight Management.
Exercise regularly. Physical activity can help you maintain a healthy weight and lower cholesterol and blood pressure. It can strengthen your heart muscle, even if it's just for 20-30 minutes on most days. Be sure to check with your doctor before starting any exercise program to discuss what type of exercise is best for you.
Quit smoking. Smoking constricts your blood vessels and reduces the size of your arteries. This increases your risk for a heart attack. If you need help quitting smoking, check out the resources available through Great Expectations®for Tobacco Cessation.
Manage your stress. Prolonged stress can have many negative effects on your body. 
Limit alcohol intake. Alcohol intake may affect your heart health. Talk to your doctor about how much alcohol (if any) is okay for you.
Keep your scheduled visits with your doctor or other health care professionals. You should have your blood pressure checked at each visit. Also, get your blood work and other tests done, as ordered. Take all your medications your doctor prescribes. Work with your doctor to get your LDL cholesterol under 100, if you have heart disease.
Follow a heart-healthy meal plan. Foods lower in fat and sodium are healthier for your heart. Use these resources for tips to help you choose delicious and satisfying foods that are also good for you!
Learn your heart attack risk.
Some links on this page lead to third party websites. Those parties are solely responsible for the contents and privacy policies on their sites.