Great Expectations Moms Support Program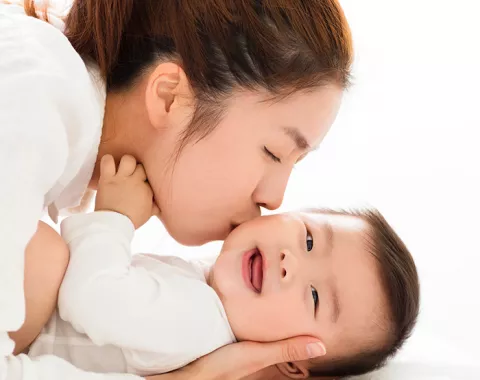 Having a baby can be one of the most exciting and rewarding events in your life. It can be very stressful too. For many women it's a time of confusion, fear and sadness. That's why depression during and after pregnancy is a common problem. The Great Expectations®Moms Support Program is here to help moms suffering from depression. 
How Do I Know if I Am Depressed?
You could have a more serious condition if you experience any of these symptoms:
Feeling sad, anxious or overwhelmed
Feeling overwhelmed with normal tasks
Feeling angry, irritable or helpless
Fear you might harm yourself or your baby
Fear of being left alone
Regret having a baby
Trouble sleeping
Isolating yourself from friends and family
Difficulty concentrating
Many new mothers will experience the baby blues. The baby blues are perfectly normal and usually go away within a couple weeks. However, the symptoms of depression last longer and are more severe than the baby blues.
Certain factors may increase your risk of depression during and after your pregnancy. If you have a personal or a family history of depression or anxiety disorder, you may be at a higher risk. You may be more likely to have symptoms of depression if you had problems with previous pregnancies. Women who have depression during pregnancy are also more likely to have symptoms postpartum.
What Should I Do If I Have Symptoms of Depression? 
Depression can interfere with your ability to function, including your ability to care for yourself and your child. It is important to seek treatment as soon as possible if you are suffering from any of the symptoms. Don't wait.
Care Management Works
Treatment for depression works and help is available. Our care managers can offer you extra support while helping you get your life back to normal.
We do this by:
Providing guidance and support through scheduled phone calls.
Setting short and long term goals throughout the recovery process.
Identifying facilities and providers to best suit the mother's needs.
Supplying family members with educational resources to better help their loved one.
You are not alone. With early treatment and support, you can get back on the road to happy motherhood.
No Cost to You!
Our Moms Support Program is available to you for free, as part of your behavioral health care coverage. There are no hidden charges, fees or copayments. If you decide the program is not right for you, you can leave at any time.
To enroll in the Great Expectations®Moms Support Program or for more information about care management and access to helpful resources, log in to My Health Toolkit and select Health and Wellness, then Health Coaching. You can also call us at 855-838-5897.